The Honda Passport is a compact SUV, first introduced in 1993, with the idea of appealing primarily to US buyers. Two years later, Honda created another compact SUV on the Civic platform – the CR-V.
Both models have gained a very good reputation over the years and are among their class's most desirable SUV models. The current, third-generation Honda Passport was launched in 2019, while the current sixth-generation CR-V is three years younger. And the million dollar question is: Which of these two SUVs is better?
Although very similar at first glance, these models have nothing in common apart from the Honda logo. Well, that's not entirely true, but the truth is that they are more different than they seem. So let's start in order and discover all their features.
Note: While this post is by all the yearly models ever created, Here's how the 2021 Honda Passport and CR-V models stack up against each other.
| Specification/Feature | 2021 Honda Passport | 2021 Honda CR-V |
| --- | --- | --- |
| Base MSRP | Varies by region | Varies by region |
| Seating Capacity | 5 | 5 |
| Engine (Base model) | 3.5L V6 | 1.5L Turbocharged 4-cylinder |
| Horsepower | 280 hp | 190 hp |
| Torque | 262 lb-ft | 179 lb-ft |
| Transmission | 9-speed automatic | Continuously Variable Transmission (CVT) |
| Drivetrain | Front-wheel drive (FWD) or available All-wheel drive (AWD) | Front-wheel drive (FWD) or available All-wheel drive (AWD) |
| Fuel Economy (City/Highway) | Varies based on drivetrain | Varies based on drivetrain |
| Cargo Space | Around 50.5 cu.ft. (behind 2nd row) | Around 39.2 cu.ft. (behind 2nd row) |
| Towing Capacity | Up to 5,000 lbs (with AWD) | Up to 1,500 lbs |
| Infotainment Screen Size | 8-inch touchscreen | 7-inch touchscreen (in most trims) |
| Standard Safety Features | Honda Sensing Suite (includes Collision Mitigation Braking System, Road Departure Mitigation System, Adaptive Cruise Control, Lane Keeping Assist System, etc.) | Honda Sensing available but not standard on all trims. |
Let's look at the exterior
Design is a matter of taste, but it's evident that the Passport is designed for the tastes of US drivers, while the CR-V is more of a global car in that context. In addition, the CR-V is a newer model and therefore leaves a better aesthetic impression.
If we look at the dimensions, we will see that the Passport is longer, wider and taller, while the CR-V is more compact and has a sportier silhouette. Correspondingly, there are differences in the size of the wheels – the Passport can have 20-inch rims, and the CR-V no larger than 19 inches.
Let's go inside
Of course, the larger dimensions of the body provide the Passport with more space in the cabin and a larger trunk – there is enough room for three adults in the back to sit comfortably and their luggage.
For a luxury feel, the TrailSport variation enhances the leather seats with bright orange stitching, the TrailSport emblem sewn into the headrests, and ambient lighting throughout.
This SUV also has tri-zone climate control with personalized controls for the driver, front passenger, and rear passenger, back seat heating, and a stunning 8.0-inch center touchscreen entertainment system.
Compact dimensions do not mean that the CR-V has little interior space. On the contrary, the interior is well organized and can accommodate four adults comfortably. Even the passengers in the back seat will have enough space, cup holders, and USB ports.
What's Under the Hood?
The passport is larger and therefore heavier. But good performance is provided by the 3.5l V6 engine with 280 hp. The engine is connected to a ZF 8-speed gearbox; front-wheel drive and all-wheel drive versions are available.
The Passport reaches 100km/h (60mph) in about six seconds. But that doesn't matter – the Passport is not a drag racing car. Far more important than that is the 355 Nm (262 lb-ft) of torque that allows the Passport to tow up to 2,300 kg (5,000 pounds).
And while the Passport only comes with a V6 engine, the CR-V offers two units – a turbo 1.5l inline-four and a naturally aspirated 2.0l inline-four. In the most powerful hybrid version, the CR-V develops 204 hp.
The CR-V is better with fuel efficiency, especially in the Sport Hybrid version. When it comes to transmission, only CVT transmission is offered, which means that driving will be pleasant and smooth. The offer also includes front-wheel drive and all-wheel drive.
How are they driving?
Both cars have quite good driving dynamics. Thanks to the powerful engine, the Passport easily overcomes demanding terrains – although it is not like the Wrangler, it certainly manages better than the CR-V, which has a relatively low ground clearance.
As already stated, the Passport is bigger, and bigger doesn't always mean better. For example, smaller cars usually have better aerodynamics because they don't create as much air turbulence.
In that sense, the CR-V is a little quieter in the cabin. The reason is, among other things, the exterior mirrors – in the CR-V, they are located on the doors below the windows, and that air is allowed to flow freely over the side windows.
And what about safety and technology?
Technology and safety are at a high level in both models. Both models have Honda Sensing, a package of driver assistance technologies that use smart sensors to detect possible risks or impediments and deliver alerts when action is required.
Brake assist, LED daytime running lights, and a tire pressure monitoring system are among the other active safety features.
The 2023 Honda Passport and 2023 Honda CR-V share many of the latest technological innovations. Both models have Apple CarPlay® and Android AutoTM as standard features, allowing you to stay connected wherever your trip takes you. Premium tech features including GPS navigation, several radio selections, and wireless charging are available on the top Passport and CR-V models.
How much does maintenance cost?
If the statistics are to be believed, the differences in the maintenance cost are minimal. Honda CR-V will cost about $7,155 for maintenance and repairs during its first 10 years of service, and Honda Passport will cost about $7,283 for the same period.
Regarding reliability, both models are about 0.5% better than the category average.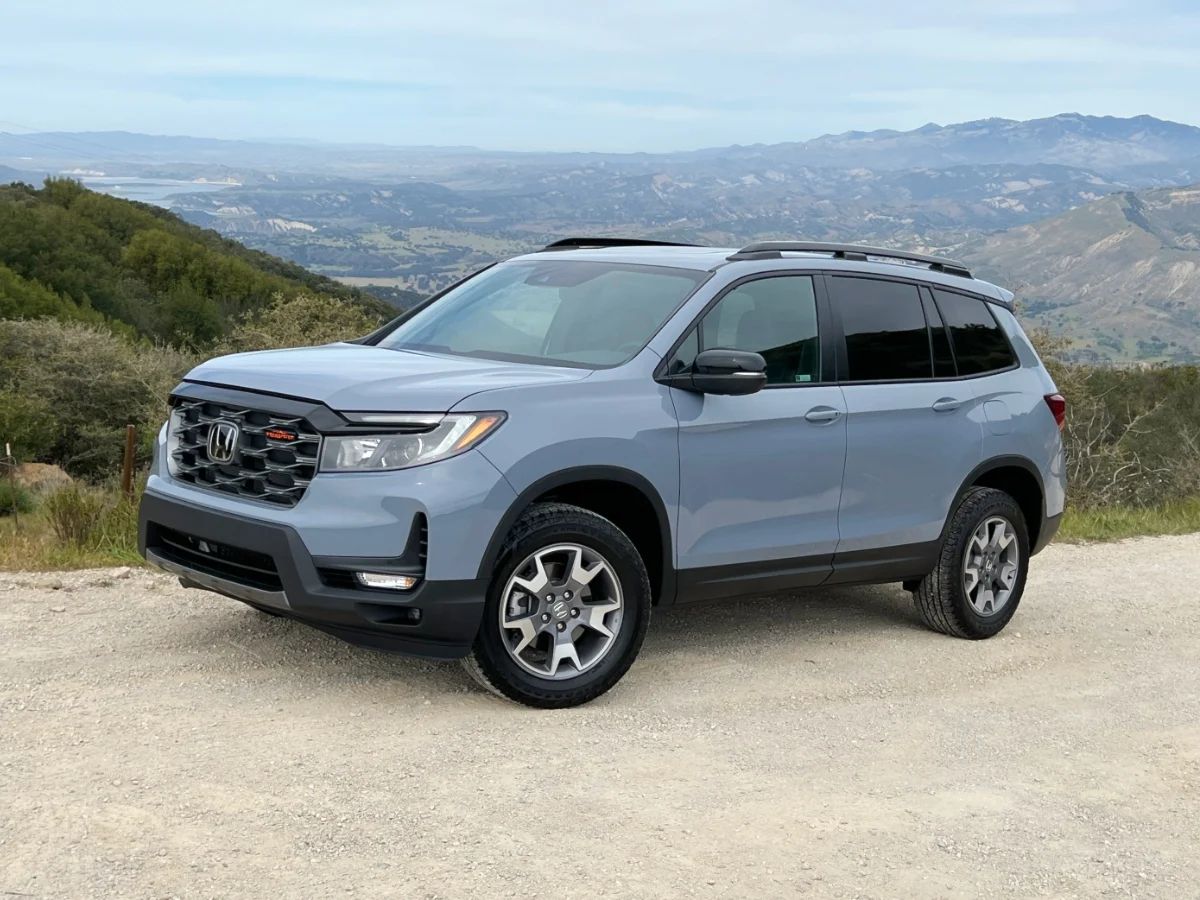 And in the end, which one is better?
It depends on your preferences, tastes, and needs. The Passport and the CR-V are two of Honda's most successful cars, and they have many similarities at first glance – both are five-seaters, excellent for families and individuals looking for entertaining driving experiences.
While similar in appearance, both of these SUVs belong to separate classes of vehicles, each having its own set of competitors.
Passport is bigger, more powerful, and more off-road competent than the CR-V. But, when compared to the Passport, the CR-V models provide better fuel efficiency, a better city driving experience, and a slightly more modern design.
We are sorry that this post was not useful for you!
Help us improve it for you and others.
Tell us how we can improve this post? Any and all details appreciated.